充実したレッスン内容
90分のレッスンの中でどんなことを教えているかは、お伝えするのは難しいのですが、いくつかの例をご紹介します。レッスンは、お子様ひとりひとりに合わせているので、画一的なカリキュラムを一方的にこなすだけではありません。むしろ、お子様が実際に興味を持ち、主体的に取り組み、先生と対話することを重視しています。トライアルレッスンを受けた方は、先生たちがとにかくたくさん話しかけてくださることに驚くでしょう。楽しく遊んだり、ワークブックをしながら、濃密な英語の世界をご家庭に実現し、英語脳を獲得していくのです。

※以前は、毎回レッスン後にレッスンレポートを送っていましたが、今後は、3カ月に1回レッスンストラテジーレポートをお送りします。毎回の内容の羅列よりもより効果的に学習に利用できるようになります。毎回のレッスン内容は、レッスン後に先生にお尋ねください。


・3歳女の子さん(日本の保育園、英語歴3ヶ月)

Lesson Report
She had a very strong lesson yesterday. We did lots of different activities, and she enjoyed most of them. She continues to have very strong listening skills, and she picks up on the meanings of new expressions very quickly. For example, I jokingly used the expression 'No way!' a few times yesterday, and she quickly responded, 'Yes way!', which was actually appropriate for that situation. She never uses Japanese in front of me, which is also great, and often tries to get out what she's thinking. When I can, I'm able to guess what she wants to say, say it, and then she's able to understand it and repeat it.
Warm Up
- Weather
A: How's the weather?
B: It's sunny.
- Feelings
A: How are you?
B: I'm happy.
- Days of the week
A: What day is it today? Is it Saturday? Is it Sunday? Is it...?
B: No, it isn't. It's Monday!
New Learning & Practice
- Elmo Craft
--> Today we made a little Elmo craft, and she enjoyed gluing the pieces together. She was able to describe the body parts, like head, arms, and legs well.
- Bear Paper Craft
--> We also made a bear paper craft, again describing various body parts of the bear. She tried to cut a few of the pieces out, but didn't have much luck, so I finished cutting for her.
- My Body
--> We reviewed the story, My Body. She said most of the expressions on the pages, like 'This is my finger.' We then played My Body bingo a few times, and she was easily able to find most of the body parts that I called out.
- Princess Coloring
--> She colored one of the two princesses that I brought for her. She enjoyed this and was able to tell me that the princess was wearing a dress. We then cut this out and taped it onto her new lesson folder.
- Alphabet and Phonics
--> We looked at two stories today, the short 'a' sound, and the consonant 'b' sound. She didn't have much interest in finishing the stories, but she did say a few of the vocabulary words that were new to her, like 'bat'.
- Reading
--> We looked at one of her stories at the beginning of the lesson, I can't recall the name but it was a Christmas story that she wanted to show me. Despite it being in Japanese, we were able to talk about what the various animals were doing. This was a structure that we continued working on throughout the lesson:
A: What are you doing?
B: I'm jumping/building/dancing/etc...
Goodbye
She continues to learn very fast. Despite the occasional stubbornness or refusal to try out an activity, we are still able to get a lot of learning done in various types of activities. Great work yesterday.
Thanks and have a nice afternoon,

Your English teacher


・3歳の女の子さん2人のグループレッスン(日本の保育園、英語歴1か月)
この先生は、毎回写真を撮ってレポートに入れてくださいます。生徒さんのご了承を得て、掲載しています。

LESSON #9:

THEME: FARM ANIMALS (an hour and a half - 19:00-20:30 structured English learning activity)
OBJECTIVES: The objectives of this session are to:
1. hone the speaking skills of both S-chan and K-chan regarding basic English words such as the days of the week, colors, shapes, surroundings, months of the year, emotions, Phonics and action words.
2. reinforce their own preferences so that they would be able to enjoy learning English (like freely moving around while focusing on their subject of interest at that particular moment).
3. introduce a new topic and let them verbalize what they know already (names and sounds of each farm animals)

I. INTRODUCTION The girls are enthusiastic when they meet each other once again. I was also ecstatic when I notice how they developed strong bond during our class.

The following were repetitively reviewed to establish understanding and clarity each session:
Phonic song: http://youtu.be/ffeZXPtTGC4
Days of the week: http://youtu.be/36n93jvjkDs
Emotions: http://youtu.be/zEk48QQSPo4
Months of the year: http://youtu.be/5enDRrWyXaw
Colors Song: http://youtu.be/1jv0Gx_q_OU

SING AND DANCE: They love this part! We all move and dance with these songs:
Follow me: http://youtu.be/I5RUzkySseE
STOP: http://youtu.be/bJnfhYCC-Bo
JUMP: http://youtu.be/kcQJDpj5TSY

II. LESSON PROPER FARM ANIMALS L
earning the song: http://youtu.be/u7W3TEadG4A
Words in the song were emphasized.

ACTIVITIES:
1. Finding letter C in the picture, which appears like complex abstract image. But Both were able to find the five letter Cs. Although the last letter C (which was hidden at the cow's neck strap) took them awhile to find.
2. Finding the cow and the duck amongst several images. They encircled the cow and the duck in an instant. The other images served as destructions as well.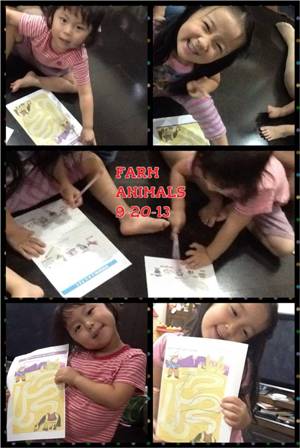 3. GAME: horse's tail game was revised to horse's hat game.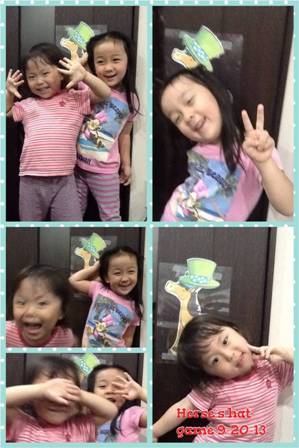 Mechanics: Each kid has to turn around in ten counts and eventually walking straight to pin the hat onto the horses head. The trick is that each of them has to avoid blocking the horse's eyes . They did really well on this game.
4. Arts and crafts.

FARM ANIMAL WINDSOCK: We all had fun doing this craft. The funny part is that K-chan's windsock holder kept on breaking that's why we have to fix it everytime.

Steps in making a Cow Windsock
1. Cut out some spots from white construction paper and glue onto a sheet of brown construction paper.
2. Cut out the pieces for the cow's head: 2 white ears, 1 triangular white face, 1 white oval mouth, 1 yellow cowbell.
3. Glue the head and cowbell onto your brown paper. Draw in eyes and a nose.
4. Add some little brown spots onto the cow's face and ears. Write your name on the cowbell.
5. Roll the paper into a cylinder and staple in place.
6. Add some streamers on the bottom and string on the top to hang. They were excellent!!!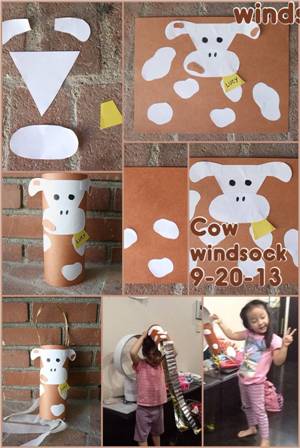 III. FAREWELL
The activities we did last night was really fun! I really hope that the girls learned from me. Please let me know if you have some points to discuss in order for me to make the girls' English Learning more enjoyable and fruitful. I would like to reinforce the ANIMAL THEME next meeting focusing on mommy and baby animals in different habitats.

Thank you once again.

Best regards,
Your English Teacher

---